Hear Ye, Hear Ye: Congratulations to all my fellow princes and princesses who participated in the 2017 Disney Princess Half Marathon Weekend presented by Children's Miracle Network Hospitals! After months of training and preparation (we signed up in JULY '16!) it's hard to believe that this magical weekend is over.
I thought it might be fun to introduce my boyfriend, Tommy, to you all and have him share his perspective on the race weekend. While he is very familiar with the 3AM wakeup call as my official runDisney chEARleader, he celebrated his first ever race, the Enchanted 10K. For anyone thinking about trying a runDisney race, as a first-timer Tommy offers a perspective of which you will be able to relate.
With time to finally gather our thoughts, here is the Will Run for Disney 2017 Princess Half race recap:
2017 Princess Half Marathon Race Weekend Theme
G: The moment I received the email for race registration and saw the outline of "Belle" with the rose I KNEW I had to sign up for the Princess Half weekend again. And knowing there were going to be some beautiful medals at the finish, I was ready to sign up for my first Glass Slipper Challenge! To be able to run the 10K with Tommy- his first race- and my first back-to-back race experience I was equal parts anxious and excited.
T: Confession: I've always hated running. But during last year's half marathon, standing on Main Street among all the energy and pageantry I suddenly felt that there was this big piece of the Disney experience that I was missing. As a Disney-fanatic, this was not acceptable and the seed was planted. So when Gina messaged me that morning in July that she was signing up for the Glass Slipper Challenge, an urge came over me and before I knew it I was registered for the Enchanted 10K.
G: Little did we know, runDisney was overhauling the design of ALL the race medals for the weekend. With a Beauty and the Beast live action movie to market, and a Princess Half weekend hosted by Belle, the sneak preview of the drool-worthy medals made all runDisney fans excited- or green with envy! I am so curious to see what they will do for next year's theme.
2017 Princess Half Marathon Weekend: Training
G: Since this was my third runDisney half marathon race weekend, I felt that I already had a strong base level of training. For those interested in challenging themselves and want to sign up for the first half marathon, or first runDisney race, I am a firm believer in the Jeff Galloway training program, featured in the Training tab of the runDisney website (only 10K through Dopey training plans are available). The confidence the program gives you and the reasonable amount of training is user-friendly. Tuesday and Thursday maintenance runs and a long run on Saturday is great for me. As a busy twenty-something professional who also wants to maintain a social life, I love the flexibility.
T: Like I said, running has never been my thing. When I started my 10K training, I could barely run for a minute straight without feeling completely drained. But using the run-walk method, I was able to build up my strength and endurance and in a couple of short months I was able to run 5K. When winter hit the northeast, my progress was somewhat derailed, but with several 4+ mile runs under my belt I went down feeling good about my ability to finish, which was my only goal.
2017 Princess Half Race Weekend Health & Fitness Expo, ESPN Wide World of Sports
G: We arrived to the Expo on Thursday afternoon. Crowd levels were high but not unbearable. We were able to pick up our bibs, shirts, and pre-purchased merchandise with relative ease- mostly because we now know our way around the campus, thanks to previous runDisney expo experiences. The entire Expo process can be overwhelming since there are different stations to go to and two different buildings to get in and out of- in fact the Jostens Center entrance was being rerouted around a field to the back-end for crowd control!
T: I had been to 2 runDisney Expos with Gina (last year's Princess and Wine and Dine) so this experience wasn't new for me – except I would be getting a bib for myself this time! I'll echo the fact that it can be overwhelming, and I definitely wasn't pleased with the quarter mile walk just to get into Jostens Center. Disney even had a DJ set up just to placate people making the trek! I wish this whole process was simpler, but being with your fellow runners and all the running-related excitement is a great kickoff for the weekend.
G: I eyed the other merchandise for sale, of which everything seemed to be in stock, but the checkout lines were VERY long. We decided to move quickly through the booths, snap a couple of photos, and grab lunch at the Grill by the Jostens Center exit. 
2017 Disney Princess 5K
G: N/A; Part of me is really kicking myself for not signing up for this race. The Mrs. Potts and Chip medal is ADORABLE and I feel like I have unfinished business by not participating in ALL of the races. However, getting up early two days in a row was the biggest challenge for me. I couldn't imagine three! To those who did participate, more power to you!
2017 Enchanted 10K
G: The Enchanted 10K was such a fun race! For anyone hoping to push themselves beyond their comfort zone but aren't quite ready for the disciplined training it takes for a half marathon, a 10K is a great start. A 5K distance can be just as challenging, but there's something about going 6.2 miles that feels like a challenge.
T: Agreed! I had briefly considered doing the 5K, but I felt that was setting my sights a little too low and I wanted to push myself. A 10K is the perfect distance for someone that wants to take casual running up a notch without getting too serious.
The Course
G: The Enchanted 10K course is arguably the best in the WDW runDisney series. With the exception of some highway time (a given for all courses to fill up the mileage), we went behind the scenes through Epcot's Future World, World Showcase, out to the Epcot resorts: Disney's Boardwalk Inn and Disney's Yacht & Beach Club Resorts, back to Epcot with a finish through Future World and the Epcot Parking lot.
Just before the final stretch we managed to get a great photo of the magnificent gardens aligning the banks of the waterways between Future World and World Showcase. The Flower and Garden Festival was set to open days after the race.
T: The highway section was rough, but I'm glad you get it out of the way early. Running through World Showcase, the Epcot Resort Area, and Future World is an absolute thrill and the scenery provides excellent distractions from the grind of running.
Our Outfits:
G: Dressed as Bert and Mary Poppins, we received many compliments from fellow runDisney runners. I thought we looked pretty cute too! Other running costumes around us were incredible! We saw plenty of Annas, Elsas, Belles, Cinderellas, and my favorite, a group of "VIP tour guides" in their navy and plaid outfits. I am always so impressed by people who are able to sew their own costumes! The creativity is very inspiring.
T: Chim, chim, cher-oo!
The Race:
G: Since this was Tommy's first race, I was honored to run beside him the entire way. We pushed ourselves and took short walk breaks as needed. The highway portion of the race is just something to get through- once we were in Epcot, we were having lots of fun! Between the character meet and greets, Tiana's "Almost There" playing in World Showcase, and running through the resorts, we really experienced the best of runDisney magic. My parents were staying at the Boardwalk and had a balcony water view room, so they were able to cheer us on as we passed by! They loved seeing us in action- along with the thousands of others around us!
Another magical feature of the runDisney races is the collaboration with PhotoPass. With your bib number, the PhotoPass photographers are able to capture your best race moments, which you can link to your My Disney Experience app with a given race code. The PhotoPass photographers were strategically placed throughout Epcot and the resorts, and the shots they got were great! The finisher photos are hands down my favorite from the race. Celebrating the finish hand in hand was such a powerful and moving moment for me!
T: On being a man running a princess race: I did have a bit of apprehension about signing up for a Disney Princess themed race weekend – not due to any concerns about my own masculinity, but I didn't want to take away from all of the powerful women that rally around this event. But nothing in the marketing forbids or even discourages men from participating with their amazing women.
Come race day, I was expected to be outnumbered, maybe four or five to one, but the actual ratio is closer to 10 to 1! I'm not going to lie, being surrounded by all that female strength can be a bit intimidating, but I didn't receive a single bit of criticism or mistreatment for my gender. Instead I felt welcomed and empowered. So if a special woman in your life wants you to join them in this event, don't hesitate!
The Medal/Swag:
G: The Enchanted 10K medal is beautiful. With simple nods to Belle and the jeweled rose, I was so excited to earn it with Tommy! The shirt was also quite beautiful. The race weekend shirt designs are all very feminine, given the mostly female field. However, I think the light blue shirt with the beast in the background was perhaps the most "masculine" of the shirts. I love it!
T: I must admit, I was super excited to get that hardware. I have seen so many runners in the parks following their race with their medals around their necks feeling the pride and joy that comes with it. It's a symbol of all the training, all the time spent, and the commitment to reaching that goal. Finally getting that feeling was pure euphoria.

2017 Princess Half Marathon
G: When that 3:00AM alarm went off for the second day in a row I was cranky. As I put on my race gear my mind was screaming at me to get back into bed. But my body was rearing to go after a day of walking off the race, rolling muscles and pool/hot tub time! I couldn't help but think, "How the hell do people do this four times in a row with the Dopey (5K, 10K, Half, Full)!?" I tried not to waste any time getting ready so I wouldn't throw myself back into bed.
Getting to the Course
G: Tommy and I jumped in the car and drove over to Epcot. We were not staying in a resort this trip so I couldn't access the resort buses (which are actually very convenient.) Thinking the traffic wouldn't be bad since it was a relatively easy drive for the 10K, we thought we would be set. WRONG. The race traffic was SLOW and JAMMED (where's Aerosmith's super stretch when you need it?!) I was definitely getting antsy. By the time we made it to the parking lot, we were WAY far away and had to walk to the pre-race party, which had pretty much ended. The DJ was barking at all of us princesses to get to our corrals (since it was 5:15 or so!) I really needed to use a porta potty so anxiously waiting in line and checked my watch like a crazy person. By the time I made it over to my corral the National Anthem was finished and fireworks had gone off for the first corral- I was really losing it.
T: If you're driving yourself to the race and you don't want to be rushing, we got some good advice: leave early. I don't mean a little early, I mean leave before 3:30am. Get yourself a good parking spot and plenty of time. Then, take a nap in your car and waltz over to the starting line before 5 and you'll be good to go.
The Course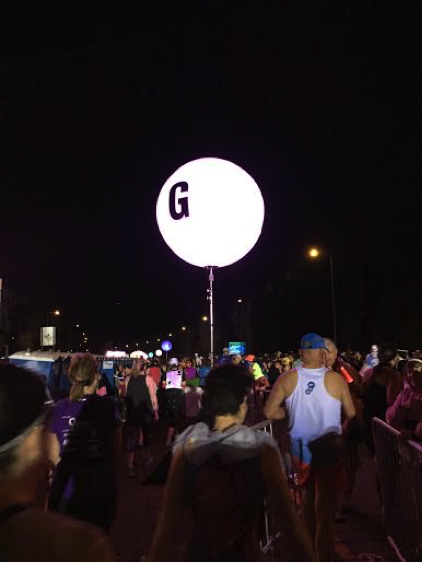 G: Finally I made it to Corral G. G for Gina! With all of the adrenaline from being late, I was ready to race! To anyone driving to the princess half, do yourself a favor and leave a little earlier. We've definitely learned our lesson!
The course was very similar to years past: from Epcot parking lot down to Disney's Magic Kingdom and back through Epcot's Future World and to the Epcot parking lot for the finish. Strewn about the course are live entertainment, character meet and greets, and DJs leading the way. For many runners, this a huge focal point for the race and the lines for photographs and meet and greets are LONG. While I enjoy doing a drive by to see what people are waiting in line for, smiling when I see a character like Genie in his Hawaiian shirt (a rare Disney character), I keep moving. Part of the enjoyment of these races, and all of the hard work I have done, is to push my limits and see if I can achieve a personal record, a PR. Everyone has a different goal in mind when they run such a significant distance- I encourage you to do what feels right for you! I do love seeing photos of other runners next to their favorite characters! As a longtime Disney goer, I feel like I've met all of my character friends already. 
Without a doubt, the best part of the race is approaching and entering the Magic Kingdom. Running through the colorfully-lit Magic Kingdom tollbooth plaza is the first bit of excitement. Then you sneak around a back entrance that leads you right onto Main Street, USA, where spectators are lined along the streets. From the spectators to Cinderella Castle, it's hard not to smile from ear to ear (and maybe even shed a tear!) From Main Street, you veer right into Tomorrowland where you head toward the back of Fantasyland via the Tea Cups and run right through the castle! The PhotoPass photographers were out in full force. I managed to get some great video footage also- I hope to share that with you all a little later.
There was some question this year surrounding whether or not we were actually running through the castle. Based on the crude maps it was hard to tell, though I am happy to report we did in fact go through the castle out on to Main Street to veer right into Liberty Square. From Liberty Square we ran the bridges into Frontierland, past the two Mountains- Big Thunder and Splash- and out through a service gate. Back toward Epcot we went, hitting the beautiful golf course entrance along the way. The highways to Epcot are some of the longest miles with not much to look at and the sun starting to blind you.
T: As I did last year, I watched Gina run from the Magic Kingdom. The atmosphere there is unmatched – the signs, the cowbells, the cheering. It's bizarre to walk into the park, in the dark, without scanning your MagicBand, and watching the sunrise as the runners come through. If you want to know what runDisney is all about, watch a race from the Magic Kingdom and take it all in.
Logistically speaking – I left Gina at the starting line and hopped on the monorail to the TTC, then to MK. The stores along Main Street and Casey's Corner are open if you're looking to pass the time. After catching Gina running up Main Street, then again through the castle, I turned right around and headed back to Epcot. It's important to note that this process did require a ton of walking and travel time so if you're not up for that then maybe watching somewhere near Epcot or the TTC would be best.
G: Believe it or not, there are hills in Florida! That's right- the onramp exits the course turns onto are actually quite steep and spiral on an extreme angle. This is where runners have to dig deep- the Toy Story green army men were stationed there for moral support. Once that part is over, running through the Epcot parking lot for the finish takes every last ounce of strength you may have. Running through Future World is a blur and then before you know it, you see that finish line banner. What an incredible feeling!
I reached the finish line with a new Personal Record of 2:20. Thinking back to 3AM when I barely wanted to finish, and a realistic goal to simply finish both races, I was elated. To then receive TWO medals? Now that was the icing on the cake. Speaking of cake, I couldn't wait to eat everything on Disney property. Run Disney to Eat Disney, am I right?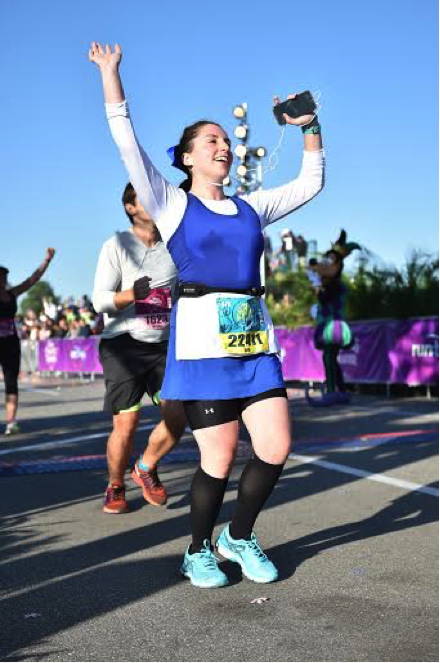 The Outfit
G: My favorite princess as a child was Belle. Beauty and the Beast was first released just in time for millennials of my age to grow up watching and adoring the film. I still remember my fourth birthday party Beauty and the Beast theme! Knowing this year was Belle's year to "host", I knew I had to find an outfit fit for Belle. With a matching tank top, athletic skirt and a white top, white apron and bow, it was simple, easy to find, and still runner-friendly.
I highly recommend finding costumes that you can actually RUN in. As beautiful as some costumes are, every year I see props thrown to the ground and forgotten. RIP runDisney costume props.
The Medals/Swag
G: The biggest change this year in the runDisney Princess Half Marathon weekend race medals was perhaps the design of the half marathon medal. A gorgeous interpretation of the encased Enchanted Rose, this medal was a standout. The Glass Slipper Challenge medal was also lovely, with a rotating inside piece and glittery glass slipper.
The Half Marathon and Glass Slipper Challenge shirts are also beautiful. I can't wait to wear them to workout in at home. A rich purple and a pink shirt round out the three awesome shirts you get to take home by participating in the Challenge.
Fairytale Challenge 2018?
G: While I can't seem to find official confirmation, I've heard rumblings that they are changing the name of the Glass Slipper Challenge in favor of the Fairytale Challenge. I believe this will allow runDisney to choose a princess theme for the race weekend and be able to design medals as a cohesive suite. I'll be very curious to see what happens!
—
Race Weekend Thoughts Overall:
G: I love this weekend. It is a fun, empowering weekend for a good cause and it just happens to be at my favorite place on earth. While I would love to participate in the 2018, 10th anniversary Princess Half Marathon weekend I am registered for the 2018 WDW Marathon, my first-ever marathon! Since it is a matter of weeks beforehand, I cannot justify back-to-back races. But I would love to return in 2019!
T: First runDisney race in the books! It felt great to check off that box and officially join the community. I don't have another race planned just yet but I'm looking forward to watching Gina run her full marathon next year.
We hope you enjoyed our Princess Half weekend recap! This is one of the most magical weekends on the Disney calendar- and so far my favorite runDisney event. To anyone on the fence about participating in the Princess Half weekend, or is thinking about running for personal, health or emotional reasons, I encourage you to challenge yourself and take the leap. Race registration for the 2018 Princess Half Marathon opens to the general public on May 2, 2018 at 12PM. Dream Big, Princess!
Until next time, #willrunfordisney! xx