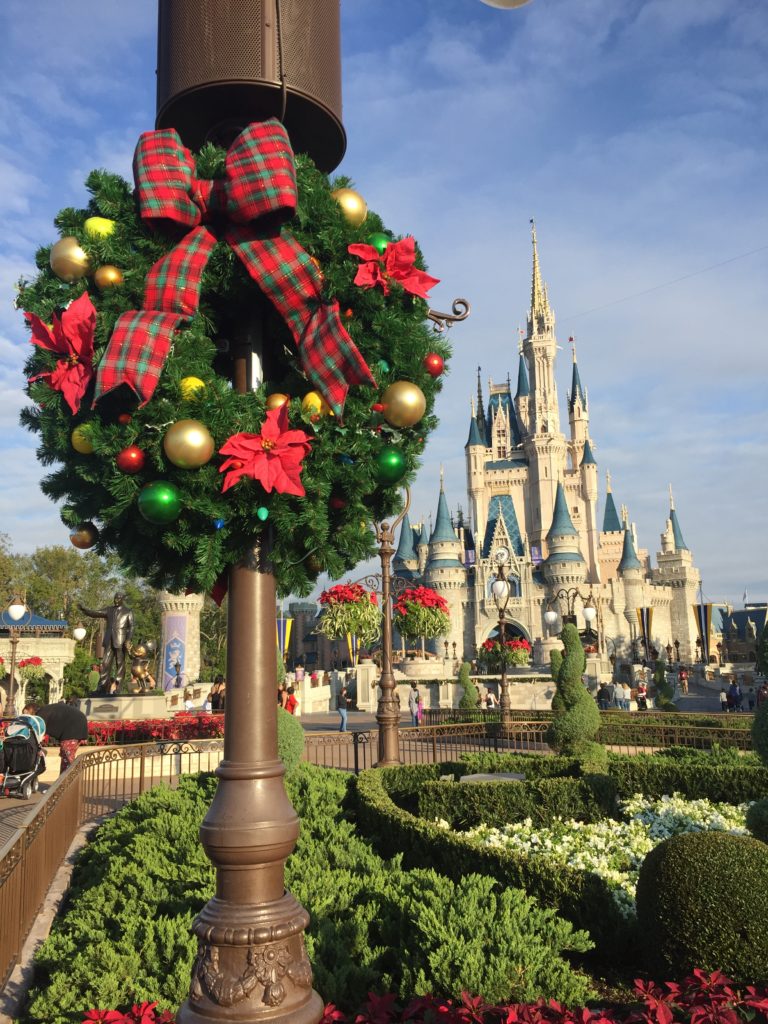 Hi friends! I'm back from a speedy weekend at Walt Disney World. How does one do Walt Disney World in one weekend, you ask? Let me show you!
A December Weekend at Walt Disney World
Thursday Night: We took a 7:30PM flight from Boston and landed around 10:30ish. I'm used to taking early morning flights, but knowing we would wake up in Walt Disney World was pretty great!
Friday: Premiere Day for Star Wars – The Last Jedi! Tommy bought our tickets in advance so we were able to attend the 9AM matinee show. Fun Fact: I hadn't been to "Disney Springs" since 2001 when it was Downtown Disney. This was practically a new experience for me! As for the film, I absolutely LOVED it and was sobbing the entire time.
After the movie, it took me a few minutes to compose myself (and I looked like a hot mess), but we grabbed a quick lunch at Cooke's for some fish and chips, which were delicious. Then we headed on over to the Christmas Tree Trail to check out all of the themed trees. I don't know, guys. I thought the trail was pretty lame, but the trees do photograph well from everyone's Instagram posts and stories I've seen. Otherwise, I don't think it's worth seeking out on its own. Maybe it's more magical at nighttime?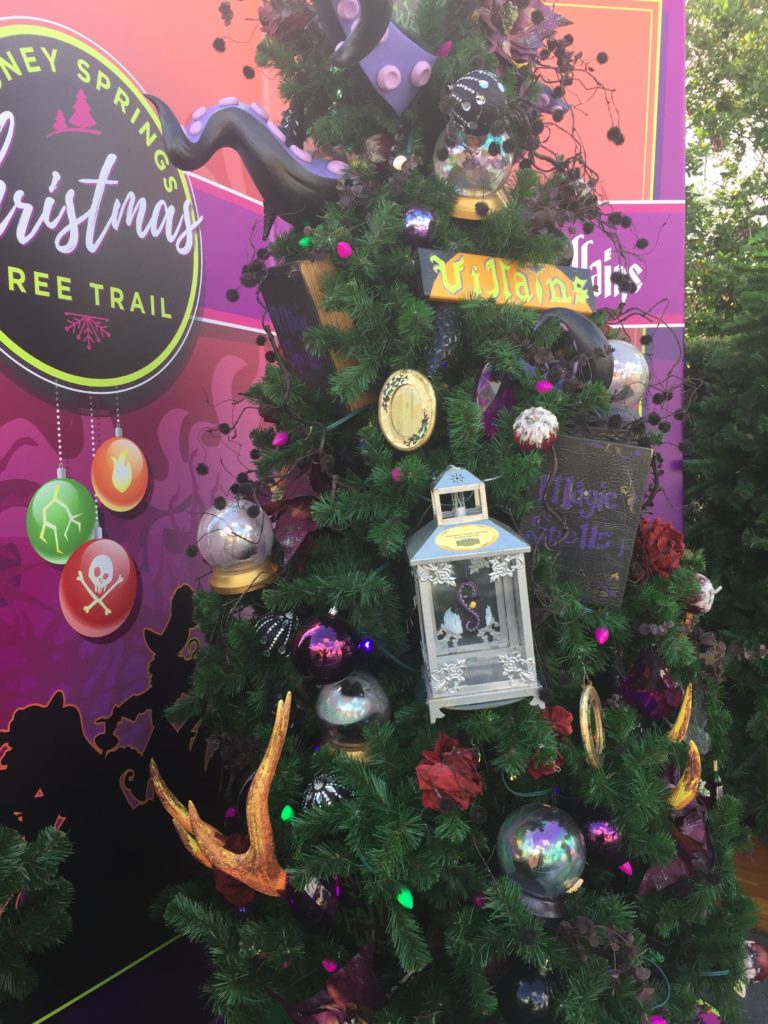 After our Disney Springs adventure, we took a resort bus to the Yacht Club to head on over to Epcot via walking to the International Gateway. I absolutely love the Yacht Club. After the Contemporary and Polynesian Resorts, this was our family's favorite hotel for a long time. I love the nautical decorations they put up for Christmas!
We had a staggeringly early 3:45PM dinner reservation at La Hacienda at the Mexico pavilion in order to get premier seating for the Epcot Candlelight Processional, featuring country singer/star, Trace Adkins. I forgot to photograph the food, but they have a Prix Fixe menu for show packages. I love Mexican food so this was perfect for me! Get me a margarita, some chips and salsa, and I'm a happy girl!
We had a FP+ for Frozen Ever After and were able to ride that just before getting in line for the Processional. As it turned out, the line was insane, even for dining package folks. We ended up all the way in Morocco (a good two pavilions away!) and were a little worried we wouldn't get seats. The America Gardens Theater is deceptively huge, so thankfully there was plenty of bench space when we arrived. The show was just as beautiful and moving as I remembered. Trace Adkins is a humble, pious speaker, with an incredible deep and powerful voice. I was thrilled to have him as our guest of honor!
Fun fact: I met Trace Adkins a few years ago while he was on tour for his Christmas Show in 2014. In every city he performed, Trace donated the Christmas tree from his stage to the local children's hospital. I was working at Tufts Medical Center & Floating Hospital for Children at the time and we were the chosen beneficiary! I accepted the tree on behalf of the hospital, and got to meet Trace and take a photo with him onstage for local media. That was the coolest! He is just as tall and nice as you think 😉 
After the Processional we left Epcot and headed to Jellyrolls Dueling Piano Bar. Have you ever been to Jellyrolls? I hadn't before, but LOVED it. You request songs and it's a fun, sing-songy bar atmosphere. We stayed 'till the stroke of midnight and had a ball! How's that for a full day?
Saturday: Magic Kingdom! We showed up right at "rope drop" and went on Peter Pan's Flight, Haunted Mansion, and Splash Mountain before our first FP+, the Jingle Cruise!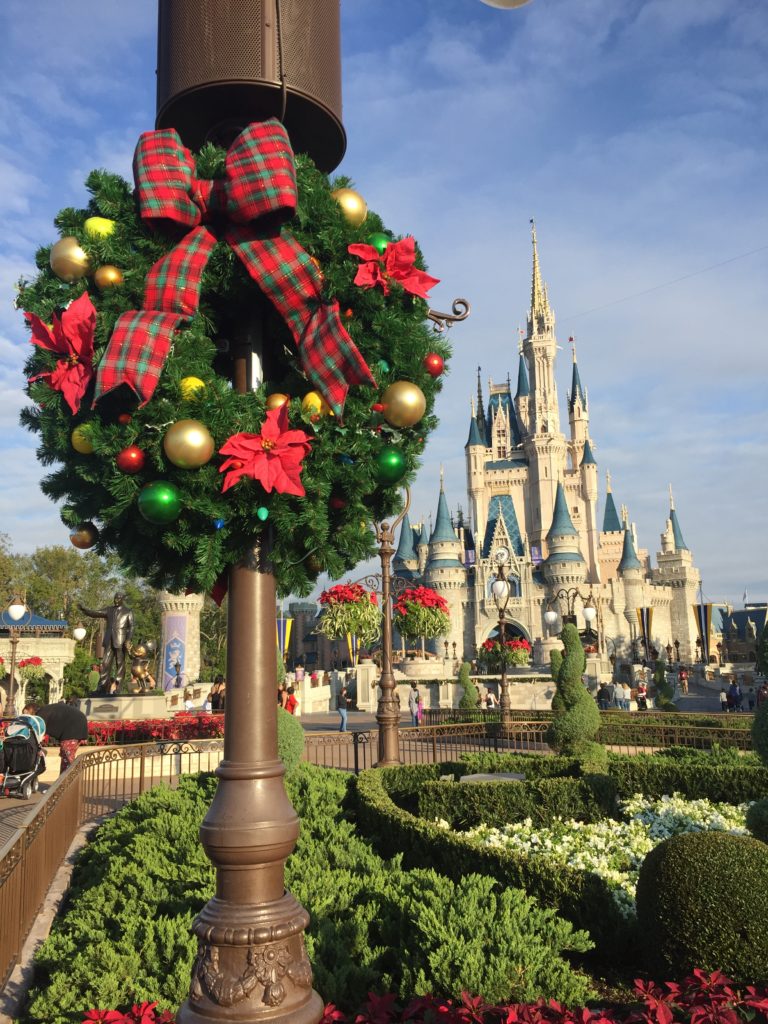 I just love the decorations they put up on the Jingle Cruise. So clever and pun-ny! We had a FP+ at Space Mountain, ate lunch at Cosmic Ray's with about a million other people (another first for me- we always ate at either Pecos Bills or Liberty Tree Tavern growing up!) and got some great views of Cinderella Castle. After lunch, we managed to squeeze in a TTA and walked around Fantasyland a bit before heading out. We spent the afternoon resting and enjoyed a family Christmas party in the evening.
Sunday: Animal Kingdom/Pandora Day! One of my favorite Christmas trees in all of Walt Disney World is the tree just outside the main gates of Animal Kingdom. I love the animal carvings and nods to African art and culture.
We got through the gates and proceeded to move in a sea of people to Pandora – World of Avatar. The line for Flight of Passage is seemingly endless. By the time we got in an actual semblance of a queue, we were all the way at the edge of Africa and The Festival of The Lion King. Who says attendance is low!?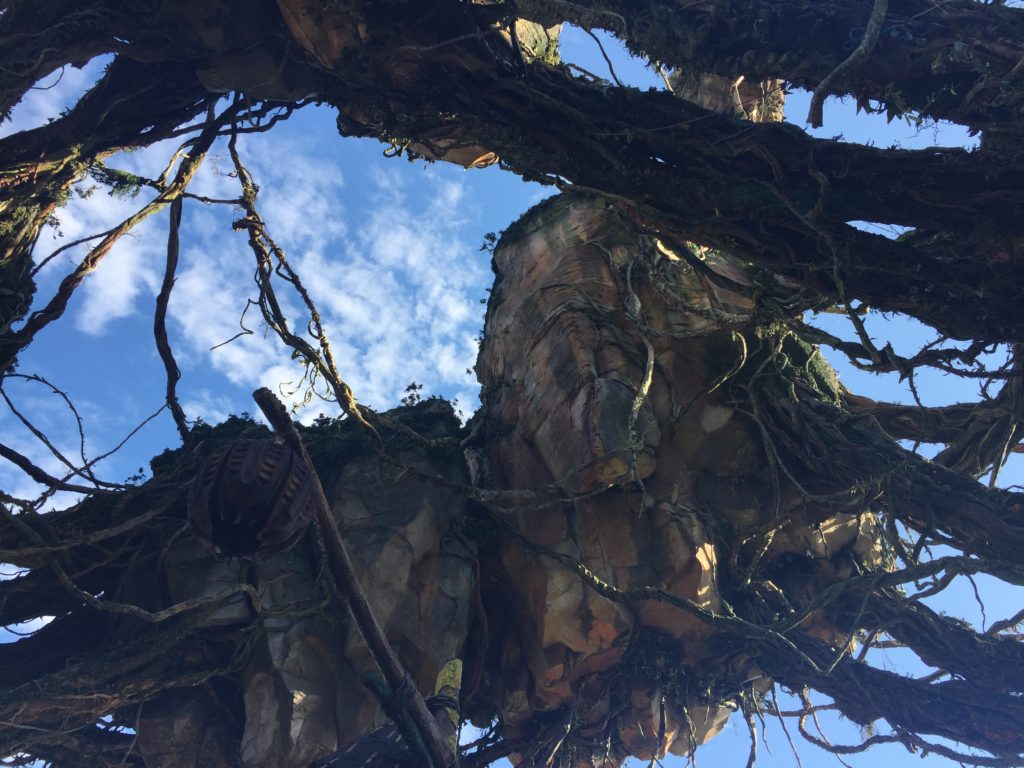 To anyone who hasn't yet experienced Flight of Passage, just you wait. It is breathtaking and unlike any other attraction on property right now. Knowing the full technological capacity of this attraction, it gets me excited for the opening of Star Wars – Galaxy's Edge! The Na'avi River Journey is also very advanced and impressive.
We ran to Expedition: Everest for our FP+ but then promptly returned to Pandora to have lunch at Satu'li Canteen for our cheeseburger pods and chicken and rice bowls. YUM.
Sadly, this was the end of the trip, and we spent the remaining part of the day packing and flying home.
—
Phew! What a whirlwind, right? I am so grateful for the chance to see the 'World at Christmas this year, and I look forward to spending the rest of the holiday season with all of my loved ones.
I wish you all a very Merry Christmas!
Gina / Will Run for Disney