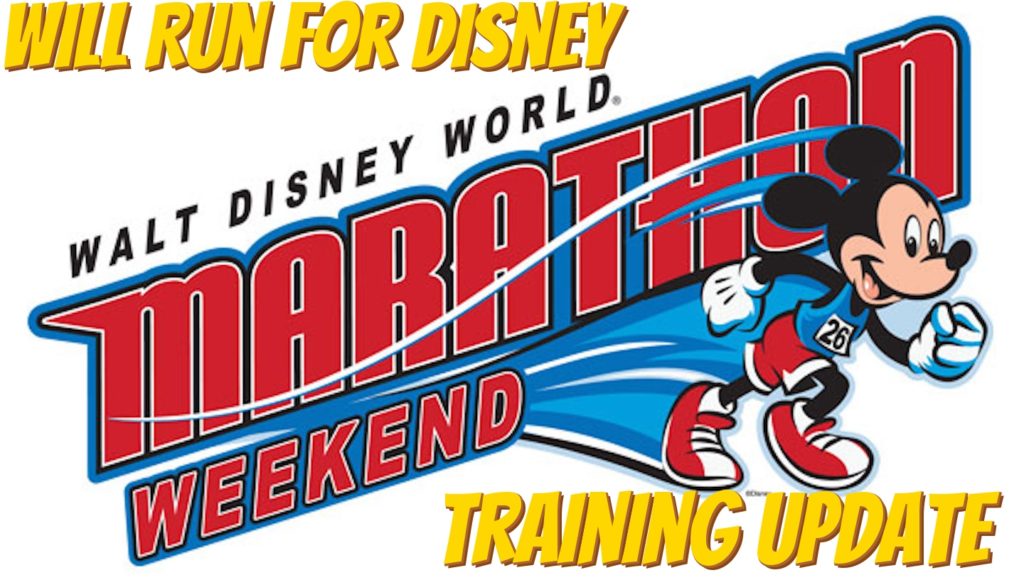 Happy Sunday, everyone!
We're another week closer to the 2018 Walt Disney World Marathon and I am getting so excited. I still need to book my airfare but my accommodations and of course, dining reservations, are ready to go!
For now, I'm three weeks away from the Boston Athletic Association (B.A.A.) Half Marathon, and have been training using the Hal Higdon Intermediate 2 program. I feel cheesy saying this but I've come a long way in my training since last year. Just about a year ago I was training on my own for the 2016 Wine & Dine half marathon – my second half marathon just a few months after the 2016 Princess Half Marathon. For anyone getting frustrated with their time or patience training long distances, know that I'm right there with you. But in the past year, my increase in mileage and strength has allowed me to see times I never thought possible last year. You can do it!
So here's what my week last week looked like:

Training Update: Week 9 Half Marathon Training

I knew I had a busy work week, so I switched around some of the workout days to accommodate to my schedule. But I'm happy to say, even though I didn't do them in the order Hal wanted, I managed to get them all done!
Monday: Speed. I was scheduled for speedwork so I started the week off with my favorite speed, strength and endurance class, Power Stryde at the treadmill studio MyStryde in the historic North End. I've been attending classes since May and LOVE the intensity. It is the hardest fitness class I have ever taken, combining strength training with tough treadmill work, and I leave sweaty and satisfied. My favorite instructor, Kelli, pushes us to reach our potential, and forces me to do strength training I wouldn't otherwise do on my own! (Two minute plank this week- argh!)
Tuesday: 5 miles. I was definitely sore from yesterday's class. But I carried on and managed to run five solid miles after work around a 10 minute pace. I was incentivized by dinner that night: homemade pulled pork sandwiches. Thanks, Tommy! 🙂
Wednesday: Rest. After a four day streak I decided to take it easy. My friend and I went out to a Girl's Night Out at Koy Restaurant in Boston. A $30 ticket included two drink tickets, wine tasting, tasty korean fusion appetizers, vendor booths for shopping, and a goodie bag of giveaways.
I ended up trying the Blackberry Mule, the Cucumber Gin Fizz, and since I know the owners, I ended up getting a sneaky third drink ticket for another Cucumber Gin Fizz. Oh, and my friend and I got poured a soju vodka shot. Plus the wine tasting. Cringe. I think I drank more that night than I did all summer. The appetizers were delicious too: Bibimbap rice balls, water chestnuts wrapped in bacon, mini korean beef sliders, cheesesteak dumplings, watermelon arugula salad bites, Mmmm. Such a fun night!
Thursday: 3 miles. Miraculously, I woke up early and churned out three miles. I felt great! Getting out of bed is seriously the hardest part. Even if you have to say to yourself "Oh, I'll just go out and do one mile." Once you're out there, chances are you'll want to commit to the other miles and get it done. I had a work event later that night so this run HAD to be done in the morning. I ended up having a generously poured glass of wine at the work event – where there were also sliders. I ended up having a couple of those (Truth: I had three)! Are you feeling inspired by my incredibly healthy eating habits yet?
Friday: 60 minutes Cross Training. The weather here in Boston has been terrible. The hurricanes swirling around us are causing warm, humid, foggy conditions. I was glad I had cross training slated for after work – barre class! 60 minutes of getting stretched out, tucking, and shaking. I leave these classes feeling light and lean (and maybe an inch or two taller.) Again, someone telling me to move my body in ways I'm unmotivated to do on my own. It also helps me get in the right head space for my long run in the morning. I went home to some carbo loading: I sat down to a beer, some pizza, salad, and (guilty!) some onion rings and french fries. With lots of ketchup. Delicious.
Saturday: 11 miles. The training guide suggested a 15K race for this week, but that's a pretty rare distance race around here, so I decided to modify and increase 1 mile from last week. I woke up to misty, warm fog, and dressed accordingly: moisture-wicking hat, shortsleeve performance shirt, capris, my favorite "Darn Tough" pink socks and pink Asics GT2000s.
On these long days, I wear a Nathan runner pack and carry a water bottle with me. Within my runner pack I bring my favorite fuel snacks along: pretzels and starbursts. I also had a "fun-size" bag of Skittles this week to spice things up.
It was a warm, soupy mess out there. But I did it! And while I was soaked when I got home, I felt great. And each week I say to myself "Can I add one more mile [for next week]?" And so far I've felt good enough to say yes every time. The only way to psych yourself up for these 10+ distances is to just do it. Slow your pace, enjoy the scenery, let a song get in your head : "Take On Me" – Aha happens for a few miles here and there!
Sunday: 3 mile shakeout. Another soupy morning has burned off to a nice, sunny day. I have plenty of errands and chores to catch up on, so I enjoy running first-thing to give myself a fresh start, a clean mind, and a grateful heart. Happy Sunday, everyone!
How is your training going? We're all in this together!
Thanks for reading, and Will Run for Disney!
Gina